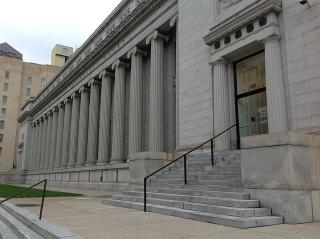 O'bryan Law Offices is a Louisville bankruptcy law firm that specializes in helping clients who are facing bankruptcy. Often, people make a decision to file bankruptcy once their financial situation has deteriorated past the breaking point. In many instances, people come to us when they're dealing with a financial emergency, such as the repossession of a vehicle or the foreclosure of a home. Other times, people come to us when they are being sued.
Whatever your reason is for considering bankruptcy, we invite you to discuss your situation and your options with a seasoned bankruptcy attorney at O'bryan Law Offices. We deal with bankruptcy every day, so you can rely on our expertise for sound counsel.
What Happens When You Hire a Bankruptcy Attorney?
Almost every day, a client asks us what will happen once they've retained us to represent them in their bankruptcy case. The first thing to do is to schedule a time for a free consultation. We recommend that you schedule your appointment over the phone so our secretary can gather some information from you that will help us counsel you better during your free consultation. They may also advise you of documents and items to bring with you depending on the circumstances of your case.
After an initial no-cost consultation, we'll advise you on our recommended course of action. For some people, that may involve Chapter 7 or Chapter 13 bankruptcy. For others, we may recommend bankruptcy alternatives. With decades of bankruptcy experience in the Louisville/Kentuckiana area, you can count on O'bryan Law offices for sound guidance.
What are the Benefits of Hiring a Bankruptcy Attorney?
Because the majority of our clients seek to file bankruptcy at the time of financial emergency, we must inform you that there are both pros and cons to filing bankruptcy. Again, this is why it's so important to talk with a professional before making a decision! Some of the main benefits for people who have already reached dire financial straits is that bankruptcy can end the harassing calls from creditors, stop a foreclosure, and stop repossession. Once a bankruptcy has been filed, the court will issue an automatic stay that stops the collection actions immediately.
Another benefit of bankruptcy is that you will be able to discharge most or all of your unsecured debt via Chapter 7. Which kinds of debts are unsecured? These include debts like credit cards and personal loans that did not require any collateral. This allows bankruptcy filers to get the fresh start they need. There are other potential benefits to bankruptcy as well, including the restructuring of debts and loan modifications.
Contact O'bryan Law Offices
If you would like to speak with a bankruptcy attorney for free, O'bryan Law Offices invites you to call us and schedule your free consultation. Please, set aside 45 to 90 minutes for your consultation.
O'Bryan Law Offices
5024004020
2721 Taylorsville Rd, Louisville, KY 40205
View Larger Map
You have an error in your SQL syntax; check the manual that corresponds to your MariaDB server version for the right syntax to use near 'AND ba.deleted != 1 AND bb.deleted != 1' at line 1