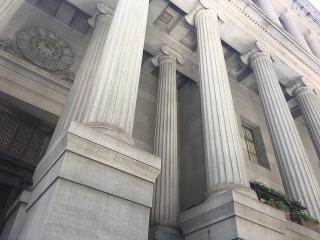 While it's true that anyone can file for bankruptcy without being legally represented by a lawyer. The question is: Why would anyone willingly try to do it alone? When it comes to your financial future, don't you deserve the benefits of partnering with a team of experts who can provide the expertise necessary for a positive outcome? If you're thinking about filing for bankruptcy and are worried about whether you'll be able to keep your home and other assets, make a call to OBryan Law offices at 502-400-4020.
For many people, the convenience of owning and using a credit card quickly becomes a burden they are unable to get our from under. The high rate of interest creates a situation that forces payment of the interest while keeping the borrower from being able to pay down the balance. If you've found yourself in a similar situation and are worried you'll never be able to resolve it on your own, Chapter 7 Bankruptcy may be the answer. Our bankruptcy lawyers at OBryan Law are available by phone to discuss the details of your circumstances and help you understand the benefits of Chapter 7 Bankruptcy.
Chapter 7 often results in complete or near-to-complete relief from debt, the main benefit being that most unsecured debt is discharged- including credit card debt. We'll need to take a look at your income and finances to let you know whether Chapter 7 Bankruptcy is the right call. If it is, we can explore all exemptions to help you get the full benefit and ensure that you're able to keep your assets.
If you own your own home or have valuable nonexempt property, you may benefit from Chapter 13 Bankruptcy that will allow you to pay back what you owe on your own terms. If you've gotten behind on your home mortgage payments or other asset payments, we can work with creditors to establish a repayment plan that will better fit your budget, so you can keep paying on your home, vehicle, or other assets without losing them. Your repayment plan may even include a partial reduction of the total loan in order to make it easier for you to pay back.
Give our bankruptcy lawyers a call at 502-400-4020 or chat live with an agent right now over our website for additional information or to schedule your free consultation. If you're not ready to reach out to a lawyer just yet, feel free to use the free resources on our website to obtain additional information while you consider bankruptcy. Click on the 'Get Started' link for your Free Getting Started e-Book, or read from our blog library. We offer downloadable e-books, guides to bankruptcy, and much more for our online visitors. You can believe that better days are ahead when you trust your financial future to our bankruptcy lawyers. We're here to help.
O'Bryan Law Offices
5024004020
2721 Taylorsville Rd, Louisville, KY 40205
View Larger Map
We welcome your comments!
.